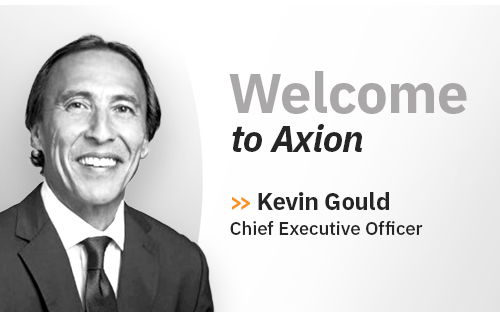 Axion BioSystems, a leading life science tools company focused on advanced live-cell assay platforms, announces that Kevin Gould has been appointed the company's Chief Executive Officer, effective immediately. With more than 20 years of senior management experience in medical diagnostics sales and manufacturing, Gould promises to build on Axion's growth in the fields of stem cell research, immuno-oncology, cell-based therapies, and drug discovery.
Kevin takes over today from Axion's long-time CEO Tom O'Brien, who will be retiring July 15th. O'Brien, who co-founded Axion BioSystems in 2008 with Chief Technical Officer Jim Ross, said that Gould is a natural fit for leading the company. "With Axion's growth on a strong trajectory, the time was right to step down from my leadership role and welcome Kevin to the exemplary team we've built over the years. Kevin's experience in the industry speaks for itself and his passion for driving biotech research forward is unparalleled." O'Brien will stay on in an advisory role through the transition and will remain on Axion's Board of Directors.
Prior to his most recent role at Bio-Techne as Senior Vice President of the Diagnostics Division, Gould was President and CEO of CLINIQA and held senior positions at SeraCare Life Sciences and Thermo Fisher Scientific. A proven visionary in the life sciences arena, Gould is eager to put his wide-ranging experience to work. "I'm honored for the opportunity to lead the team at Axion and continue the successes, work, and trajectory that Tom has established. Axion has a unique opportunity with the support provided by Summa Equity to provide significant improvements to the life science industry. I look forward to this new journey."
Gould's arrival comes at an exciting time for the company. Stockholm-based Summa Equity acquired Axion in July 2021, allowing the company to accelerate its assay technologies, scale up its commercial capacity and market awareness, and acquire UK-based printed electronics manufacturer M-Solv Manufacturing Limited and the Netherlands-based live-cell imaging company CytoSMART Technologies. With innovative benchtop systems that monitor complex cellular activity without disturbing the underlying biology, Axion's live-cell platforms offer pharmaceutical companies, biotechnology firms, and academic researchers with the next-generation platforms for advancing in vitro disease modeling and drug discovery.
About Axion BioSystems
Axion BioSystems is a leading life sciences tools company focused on innovative live-cell assays used to study the function of cells in vitro for drug discovery and disease modeling. The team at Axion BioSystems is dedicated to continuing the advancement of new technologies that accelerate research and further the understanding of biological complexity outside of the body. Axion BioSystems is headquartered in Atlanta, Georgia, USA, and has offices worldwide. Axion has more than 150 employees across its current locations. www.axionbiosystems.com
About Summa Equity
Summa Equity invests in companies that are solving global challenges and creating positive Environmental, Social, and Governance (ESG) outcomes for society.
Summa's purpose is to co-create win-win for investors, portfolio companies, and society through aligning its vision and outcomes to the Sustainable Development Goals, ensuring a net-positive impact against ESG challenges, and the potential for long-term, sustainable outperformance.
Investments are focused on industries and companies that have tailwind from megatrends within three sustainability themes: Resource Efficiency, Changing Demographics, and Tech-Enabled Transformation. Across these themes, Summa's portfolio companies are supporting a world in transition and showing that business can be part of the solution. www.summaequity.com
Related Products
There are currently no products tagged to this resource.