Request Information
Lumos™ is a multiwell light delivery device allowing you to incorporate cutting-edge optical assay techniques, such as optogenetics, into your in vitro research.
With individual control of light delivery in each well, Lumos provides market-leading light intensities from up to four wavelengths. Providing ultimate assay flexibility, light delivery within each well is fully configurable with finely graded output intensity waveforms updated with microsecond scale precision. Light delivery is uniquely isolated within each well for fully independent assays across the microplate.
Lumos also pairs seamlessly with the Maestro Pro and Maestro Edge systems for simultaneous optical control and electrical measurement of cell network activity.
Taking care of the assay so you can focus on the science.
High throughput - Simultaneous control of light delivery to each well of a standard SLAS-compliant 24-, 48-, or 96-well microplate.

Fully configurable - Powerful on-board electronics enable each of the 96 (Lumos 24) or 192 LEDs (Lumos 48 and Lumos 96) to be independently controlled with finely graded output intensities that are dynamically adjustable on a microsecond timescale.

Complete wavelength coverage - Four wavelengths per well span the visible spectrum for selective stimulation of the most-commonly used opsins.

Environmental control compatibility - Options for regulation of temperature and CO₂ enable extended benchtop experimentation.

User friendly software - Intuitive "drag-and-drop" style blocks enable quick and easy design of light delivery patterns and selection of target wells.

Topside light delivery - Delivery of light from above each well enables even light distribution and leaves the bottom of the microplate open for simultaneous electrophysiology, imaging, or other interfacing modalities.

Industry-leading light intensities - Large dynamic range with minimal cross-talk between wells.

Pairs with the Maestro MEA system - Seamless integration with the Maestro for optical control of cell activity during real-time recordings of functional responses.
Lumos Optical Stimulation Systems

Model
Cat No.
# of Wells

# of Colors

LED colors

# of LEDs

Compatible Plates

Maestro
Edge

Maestro
Pro

Maestro
Z/ZHT

Maestro
Original

Lumos 24
LUMOS-SA-24 LUMOS-MEA-24

24

4

96

Lumos MEA 24 Lumos Opticlear 24

●

●

 
 
Lumos 48
LUMOS-SA-48 LUMOS-MEA-48

48

4

192

Lumos MEA 48 Lumos Opticlear 48

 

●

 

●

Lumos 96
LUMOS-SA-96 LUMOS-MEA-96

96

2

192

Lumos MEA 96 Lumos Opticlear 96

 

●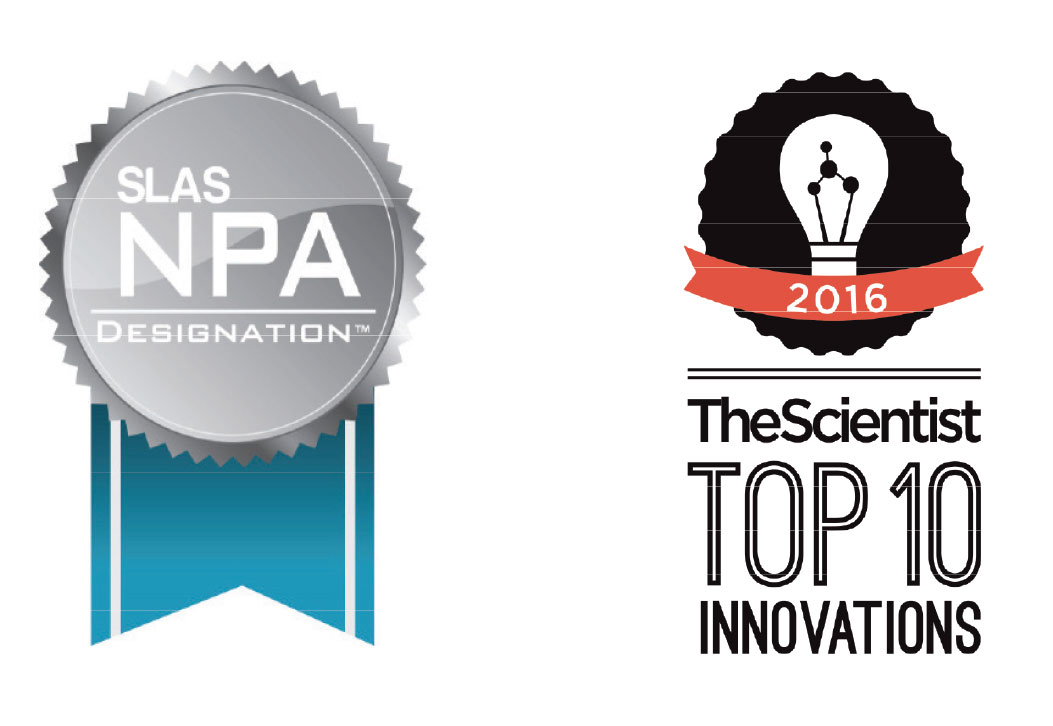 Award-Winning Innovation
"The platform . . . now puts unique control in the hands of the researcher. Using high-power LEDs that span several wavelengths increases the customization ability to go with specific light-manipulated protein manipulation."
"This system for high-throughput optical stimulation in multiwell plates is the first large-scale practical implementation in the emerging field of biophotonics."
The Scientist Top 10 Innovations 2016 judges' comments
Discover ground-breaking throughput, power, precision, and control in the first commercially available multiwell optical stimulation device. Incorporate cutting-edge optical techniques into your in vitro research using Axion BioSystems' Lumos.
The Lumos system can be used in two general ways:
Control of cell biology – Deliver light to Axion's Lumos OptiClear plates, standard-format SLAS-compatible microplates with optical specializations and clear bottom for cell biology applications such as gene editing and cell signaling.

Control of cell activity – Pair Lumos with Axion's Maestro Pro and Edge platforms and deliver light to Axion's Lumos MEA plates to precisely control networked excitable cells while simultaneously recording electrical responses.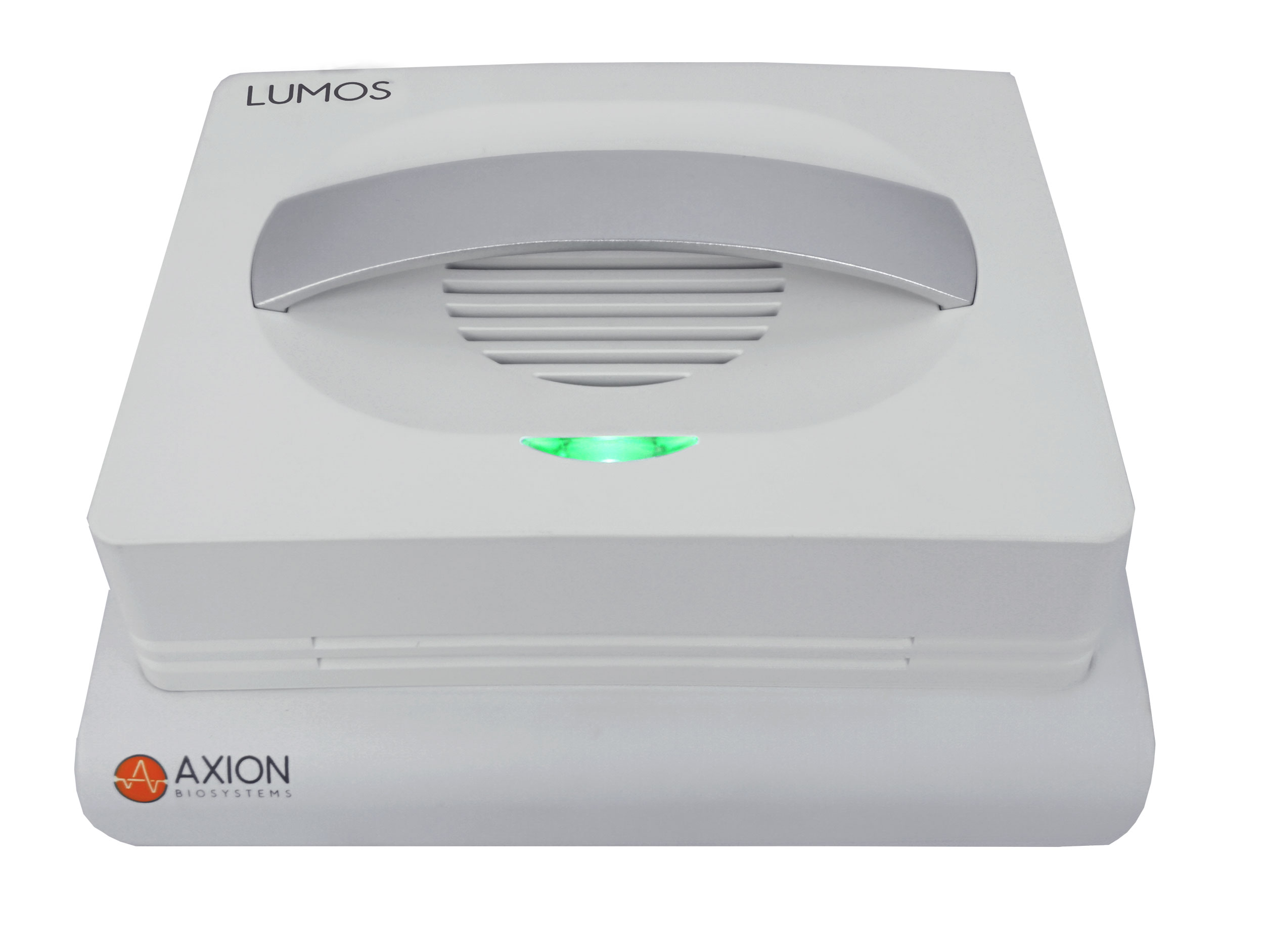 Use Lumos to control cell biology
Control cellular biology on a high-throughput scale
Light-mediated control of biochemical, genetic, and cellular functions is an emerging tool in many research fields:
Control intracellular signaling pathways
Direct gene expression with light
Edit genes with light-induced CRISPR/Cas9
Influence growth and regeneration
Lumos ECbase is compatible with standard lab warming plates and has a built-in gas delivery port to enable a controlled CO2 environment during Lumos Optical stimulation.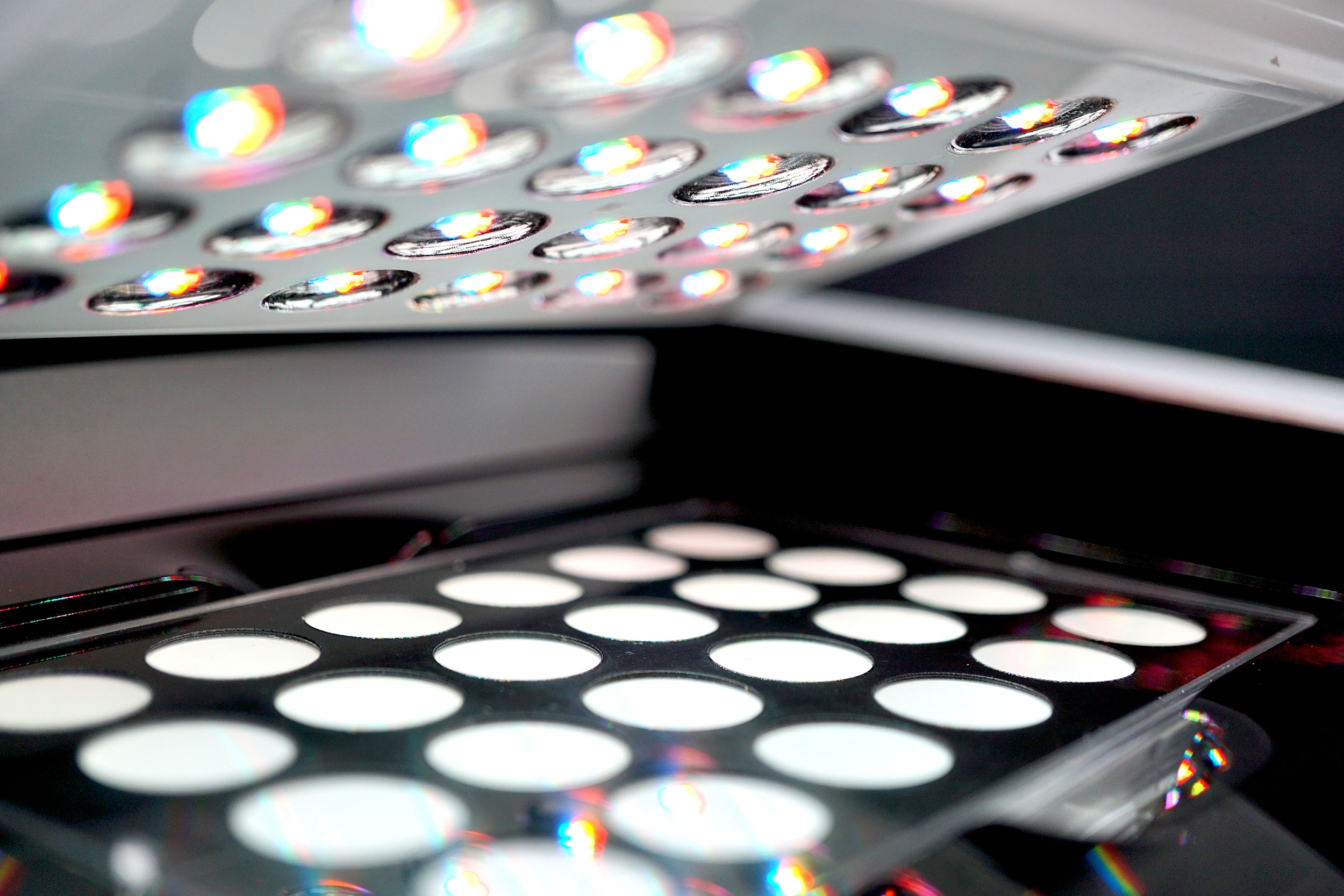 Use Lumos to control cell activity
Control cell activity with light
Optogenetics techniques use genetic targeting to express light-sensitive ion channels called opsins (e.g. ChR2) in targeted cell populations. Upon stimulation by a specific wavelength of light, these opsins can be activated to shift the cell membrane potential. Light of specific wavelengths can thus be used to activate or silence cell activity in targeted cell populations.
Advantages of optogenetic-mediated control of cell activity include:
Artifact-free stimulation
Precise control of cell activity
Reduced experimental variability
Cell specific control
The most flexible in vitro optical stimulation system
A first-of-its-kind on the market, Lumos revolutionizes in vitro optical approaches. Lumos provides 24, 48, or 96 concurrent wells of stimulation and the ability to simultaneously use up to four different wavelengths of light per well at user-specified, precisely defined output patterns.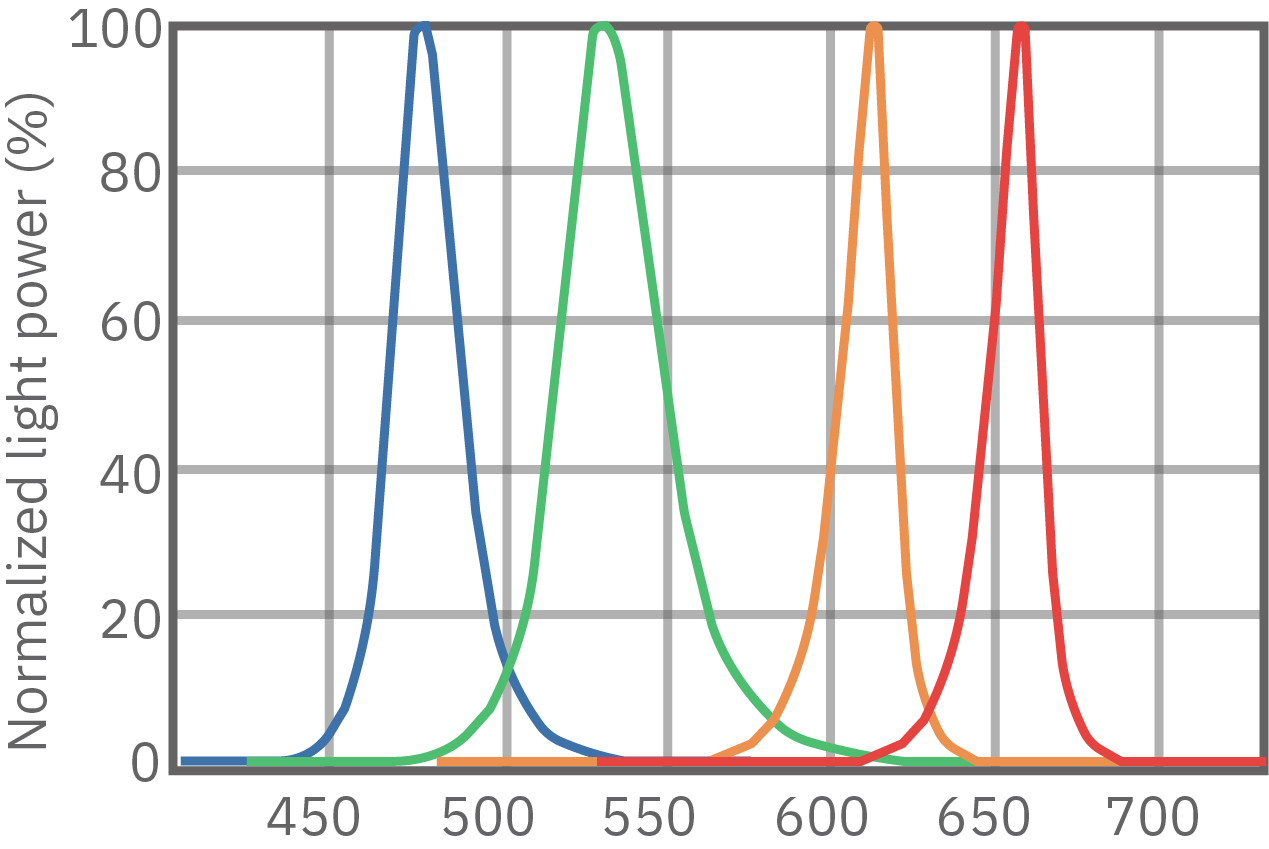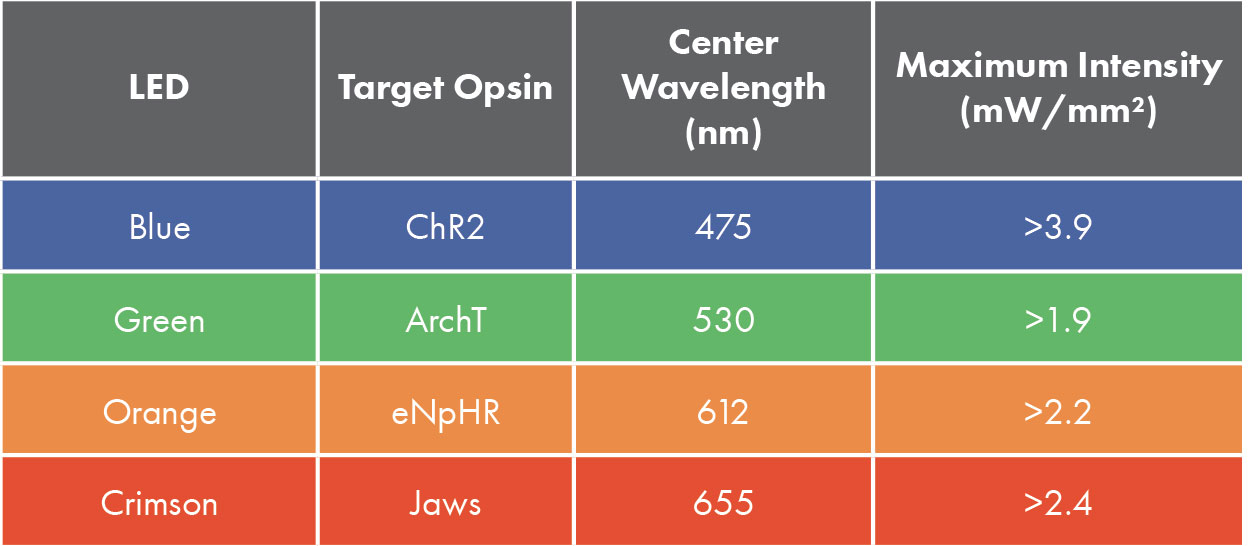 Axis Navigator - Stimulation Studio
The Neural Applications and Cardiac Applications modules support Lumos optical stimulation with Stimulation Studio in AxIS Navigator. Enabling fast, flexible set-up, Stimulation Studio provides intuitive, visual stimulation programming in an easily accessible plate map format. Here, each of the LEDs can be independently controlled for intensity (1-100% max power) and duration (down to 100 microseconds), and stimulation protocols can be designed quickly and easily with a drag-and-drop interface.